* The following custom content is sponsored by Frontier Nursing University.
Many aspiring students seeking a graduate nursing degree are challenged with the time and logistics required to attend graduate school. Whether balancing a full-time job, a family, or both, enrolling in graduate school is oftentimes difficult to manage with a busy schedule. Frontier Nursing University (FNU), a distance learning university that specializes in nurse-midwifery and nurse practitioner education, is offering flexible and unique solutions for students pursuing their graduate degree in nursing.
With 80 years in providing community-based education programs in advanced practice nursing specialties, FNU is the oldest and largest continually operating nurse-midwifery education program in the United States. FNU pioneered the first family nurse practitioner program and first midwifery community-based distance education program in 1989.
Graduate students can seek a Master of Science in Nursing (MSN), post-graduate certificates (PGC), or a Doctor of Nursing Practice (DNP). FNU offers four different specialties for its MSN/PGC programs: Nurse-Midwifery, Family Nurse Practitioner, Women's Health Care Nurse Practitioner, or Psychiatric-Mental Health Nurse Practitioner.
FNU has specific admissions criteria to qualify for its MSN program. All students must be a registered nurse (RN) with a current, active license in the United States with no encumbrances, and one year of registered nursing experience.
A nurse seeking their MSN or DNP means increasing their career potential and opportunities for advanced practice roles.
What Makes FNU Unique
FNU's mission is to provide accessible advanced nursing education to prepare competent, entrepreneurial, ethical, and compassionate leaders in primary care to serve all individuals—with an emphasis on women and families in diverse, rural, and underserved populations.
With its distance education model, students have the opportunity to study in their home communities while continuing their nursing education.
Although a distance learning university, FNU requires its students to attend two in-person visits (one for DNP students) to its new Versailles, KY, campus. Frontier Bound, a three-day, orientation-style visit, gives students the opportunity to meet faculty and their peers, learn more about FNU programs and what they can expect, and explore the institution's history and available resources.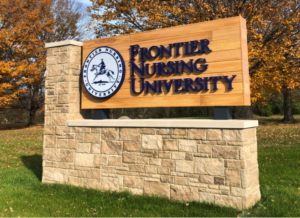 Prior to beginning their clinical practicum, students visit FNU's campus for a 5-day signature, skills-intensive event called Clinical Bound. This unique, hands-on active learning experience allows students to feel validated as having acquired the skills necessary to begin their community-based clinical practicum. Clinical Bound also engages students in face-to-face communication with their faculty members and peers.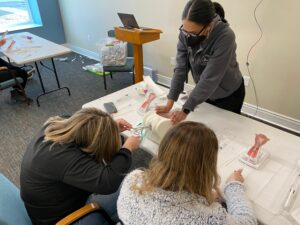 "Despite our distance education model, there is nothing 'distant' about the FNU community," Dr. Susan Stone, FNU President, said. "FNU faculty and staff are committed to being present and providing consistent support throughout our students' educational journey."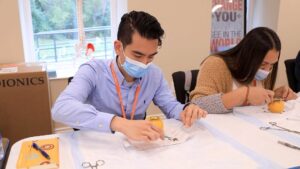 FNU touts its affordable tuition and streamlined curriculum. FNU's Family Nurse Practitioner (FNP) online program is ranked #3 by U.S. News and World Report in January 2022.
FNU's FNP master of science in nursing overall pass rate in 2021 was 97 percent (American Association of Nurse Practitioners), while our American Nurses Credentialing Center (ANCC) first-time pass rate was 100 percent. The AANP national average pass rate for first-time test-takers was 84 percent.
FNU's program excellence was noticed by the United States Distance Learning Association (USDLA), who awarded FNU with an International Distance Learning Award.
Required Skills and Characteristics
What are the skills and characteristics that are essential to be successful in the field of nursing?
"Nursing is an art and science," FNU Clinical Faculty member Dr. Diana Jolles said. "You need to be good with people, compassionate, and empathetic. You need a solid work ethic. It is important to have an organized brain that likes math and science."
According to Dr. Jolles, characteristics that make for good nurse-midwives, family nurse practitioners, psychiatric-mental health nurse practitioners, and women's health practitioners are grounded in the role of advanced practice nursing as population-based public health.
"Nurse practitioners and nurse-midwives provide care that is measurably different from medicine, which is based on treatment and procedures," Dr. Jolles said. "The advanced practice nurse model of care requires providers to provide care throughout the lifespan through partnership with people, families and communities. We believe in resilience and assets-based care, with an emphasis on health and wellness."
Serving in the Community
FNU prepares its students for a rewarding nursing career in a unique way. The University requires students to complete all didactic coursework prior to beginning clinicals so they are fully prepared to practice. During the didactic portion of their studies, students remain and continue working in their home communities while earning their advanced degree.
"Frontier is a national leader specializing in the advanced practice primary care workforce," said Dr. Jolles. "Our network of clinical sites, preceptors, alumni and faculty cross all geographic and socio-demographic characteristics providing a community of excellence for our students. The curriculum is designed by national leaders in nursing education and led by APRNs who are leaders in the field of primary healthcare. This network provides support to students and alumni throughout their career. Many alumni serve as preceptors for our students, mentoring and guiding them on their journey as future advanced practice nurses and midwives."
Dr. Jolles believes that every community needs more advanced practice registered nurses (APRN).
"So long as we have health disparities, chronic disease burdens, and an unsustainable cost of care, the healthcare industry will need advanced practice providers," Dr. Jolles said. "Frontier's mission is training the entrepreneurial primary care workforce. This means that we train our graduates to assess their community needs and design sustainable APRN-owned or led practices. We have a legacy of having trained the workforce of birth center founders and owners, and a variety of other innovative practice models."
Students also recognize the University's support and flexibility that their programs offer them in pursuit of their graduate degree.
"FNU's online program offered me so much flexibility," said midwifery student Kate Murphy. "I was able to work full time. I've been able to pay for school as I've been doing it. I've been able to access it while I've been at home. And I've been able to do all that while not having to compromise my values of rural health care and providing services to those who otherwise wouldn't get them. So that was truly why I chose FNU."
Setting Students Up for Success
FNU students are well supported in their advanced nursing programs, as they have their own personal support team, including a Regional Clinical Faculty (RCF), academic advisor, clinical advisor, admissions officer, and more.
"Frontier faculty and staff have a unique relationship with students," said Dr. Jolles. "We are accessible by phone, email or Zoom/Google meetings. The university has an incredible team of advisors for the students, a committed, kind and accessible information technology department, and expert librarians to help with scholarly endeavors."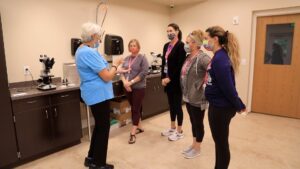 "I think if I speak for everybody at Frontier when (I say) every professor that you come in contact with wants you to succeed," said midwifery student Paige Boran. "They want you to do well. They're very positive, very encouraging, always approachable. I've never felt embarrassed to reach out to the professor because I needed help."
FNU supports its 8,000 alumni in their professional growth by offering continuing education courses and through invitations to participate in webinars and other sessions. The University often features its alumni in Alumni Spotlight stories and stays connected with them through an Alumni Facebook group and monthly alumni newsletters.
"Many of our alumni speak at national conferences, run professional affiliates, perform active health policy advocacy, and some publish the results of their quality improvement initiatives," said Dr. Jolles. "The University has an active alumni group, social media presence, and other social events that help alumni to stay connected through the years."
Visit Peterson's for more information about FNU and advanced nursing education.