The preferred ASVAB prep of military members everywhere
Take charge of your military career with ASVAB scores that earn you the placement you want
"Hands down the best resource for studying the ASVAB."
Starting at just $39/month
"Hands down the best resource for studying the ASVAB."
Katie
Armed Services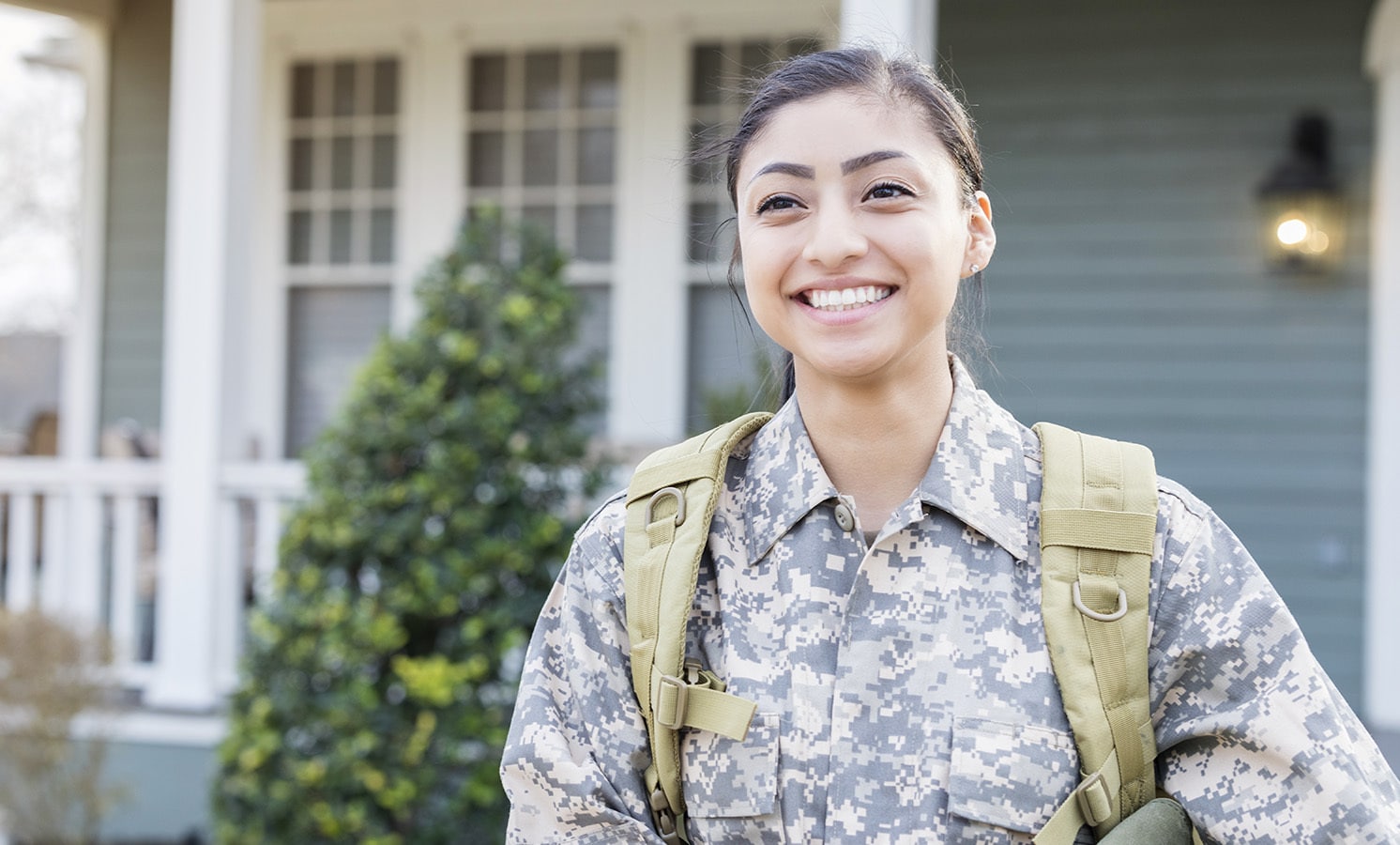 Included in your ASVAB prep:
Comprehensive test prep, with customized ASVAB strategy, instructional content, and ample practice
900 exclusively written interactive topic lessons and videos for all nine sections of the ASVAB
Diagnostic test and three additional full-length ASVAB exams
Detailed answer explanations for all practice questions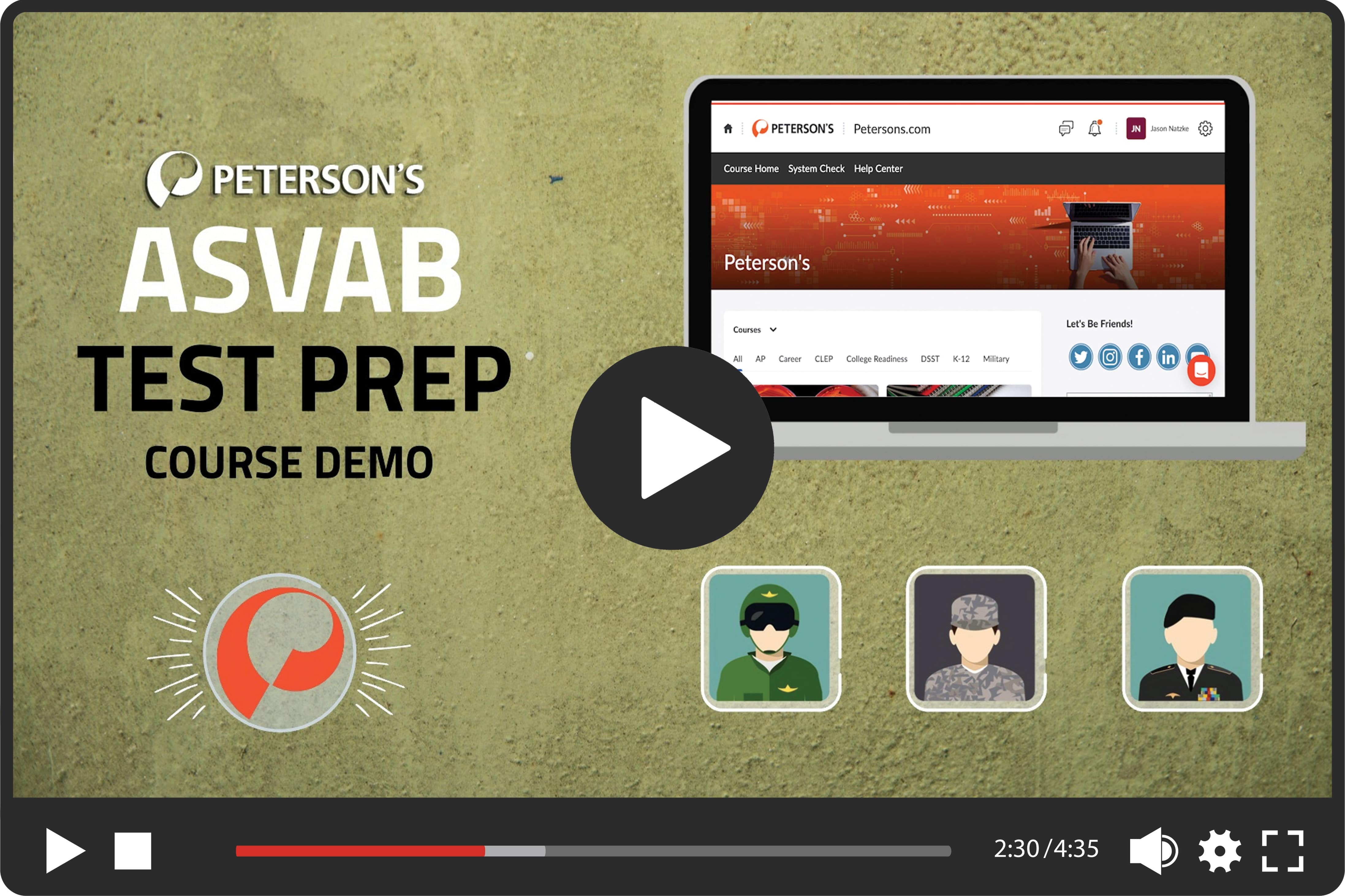 Our Best ASVAB Prep Course Yet!
Designed for test takers wanting guided instruction and desiring the highest score increase, Peterson's online ASVAB course is equally valuable for those looking to join the military and current military members looking to improve their AFCT or GT scores.
Multimedia lessons
Watch, listen, read, and practice. Use ASVAB test prep tools that fit your learning style.
Personalized recommendations
Start with a diagnostic test and evaluate the ASVAB study guide to create a study plan tailored to your strengths and weaknesses.
Plenty of practice
With four ASVAB practice tests and 27 flashcard decks, you won't find this level of preparation anywhere else.
Features you'll love
Interactive lessons allow for active learning and keep you engaged

Flashcards help you commit key terms and definitions to memory

Discover your learning style and study personality, and how to use them to your advantage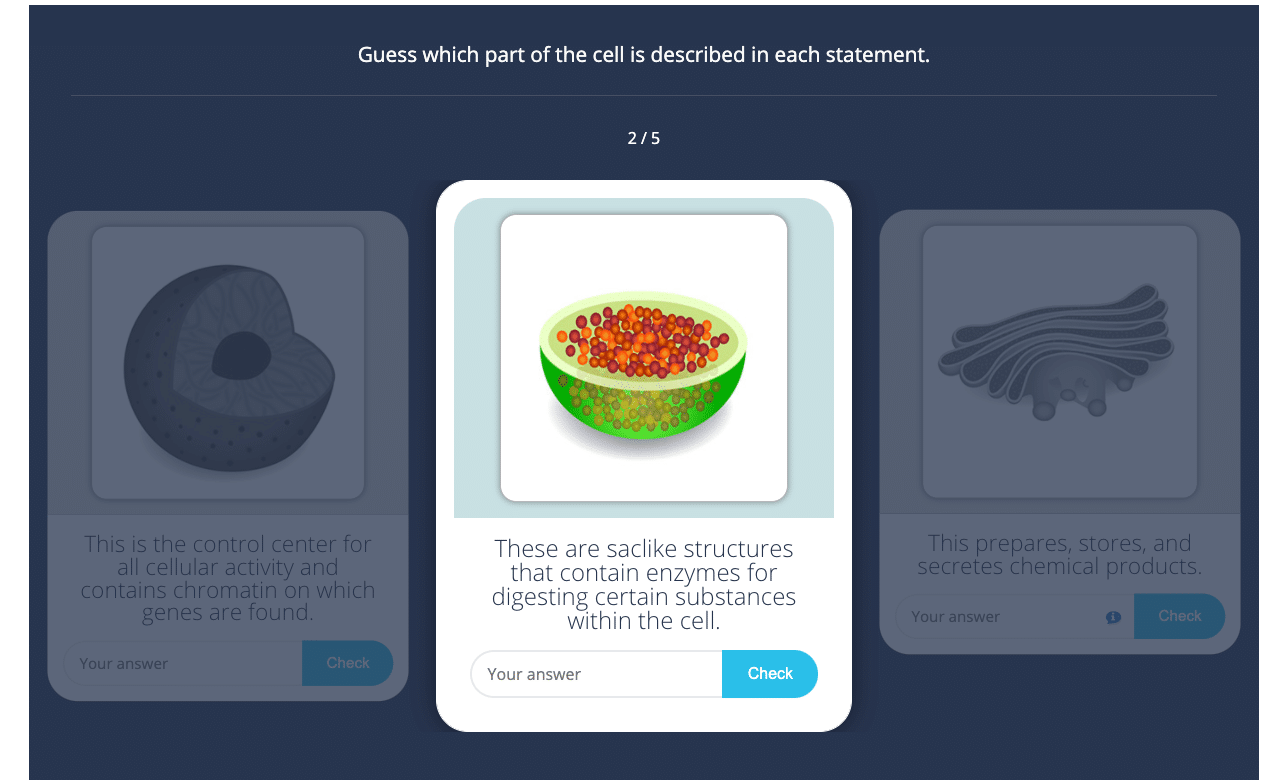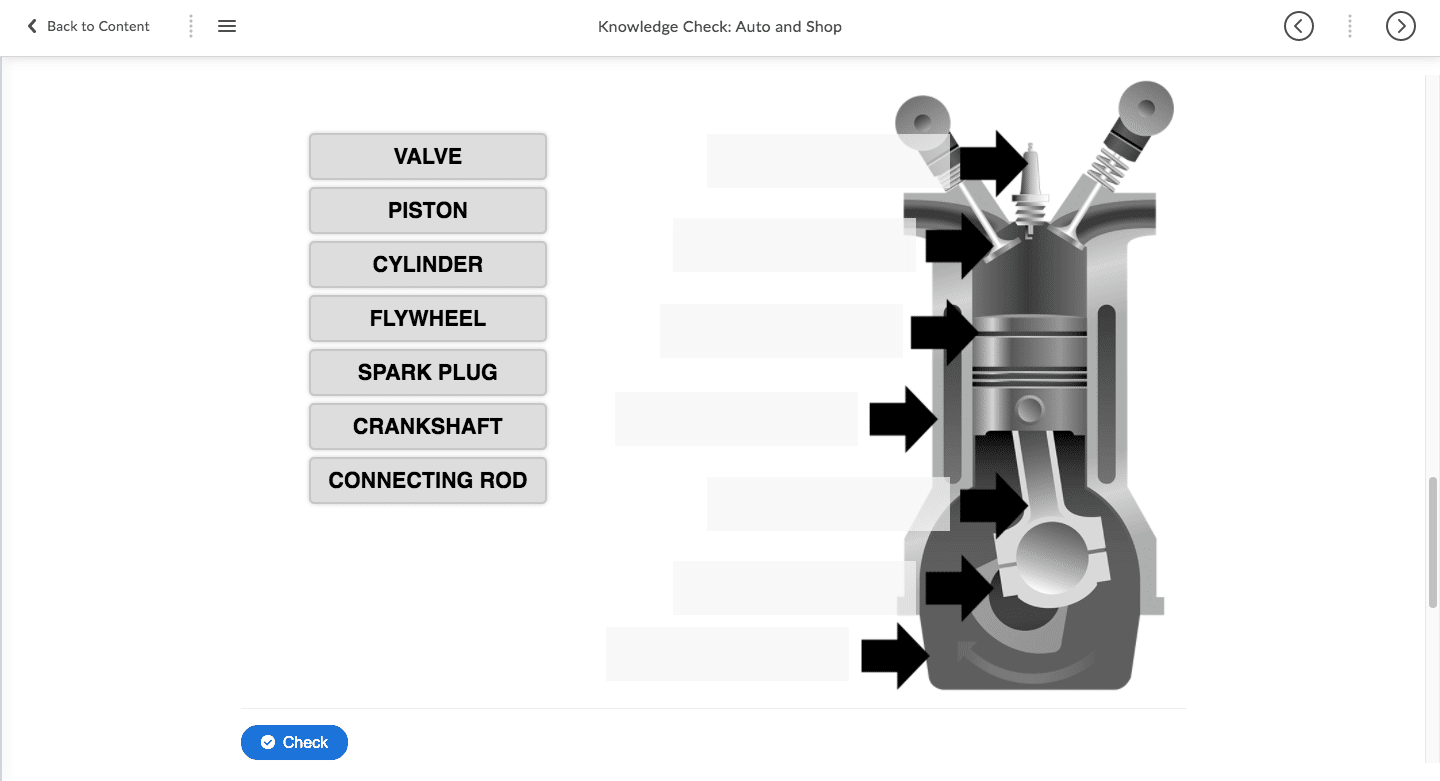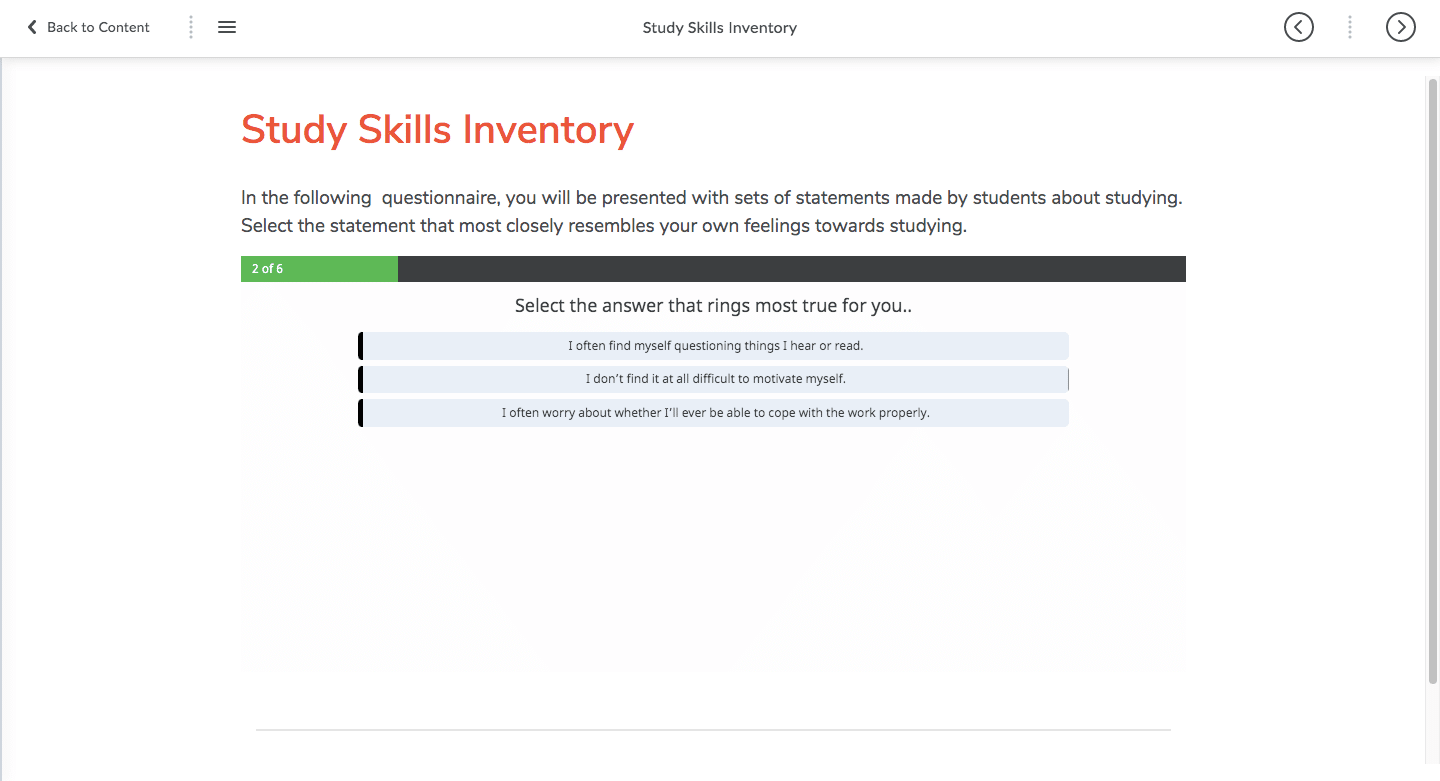 Prices start at just $39/month
The best ASVAB prep? See why thousands of current and future service members trust Peterson's each year.
Sign up
Finally content for an adult learner!
I'm glad there's an actual resource for adult learners and students to use. So much out there is for people in or fresh out of high school, so it's great to have adults be represented and remembered.
GRE Test Prep
Loved the video lessons and flash cards! It made the material so much easier to learn and left me feeling confident on test day!
Homeschool Mom
I teach my son at home and have used your online courses and tests to supplement his curriculum. He loves it!!
Nurse studying for NCLEX
As an adult student, your NCLEX prep was perfect for me! I wish there were even more medical student resources
this test prep is excellent
thank you Peterson's!! i just got into Yale!
Top ASVAB FAQs
The Armed Services Vocational Aptitude Battery, or the ASVAB, measures your aptitudes in domains that pertain to the United States Armed Forces. Your score determines your qualification for enlistment, while a breakdown of your score is a factor in determining your placement in the military.
The ASVAB test is a multiple choice exam containing nine sections that consist of four domains: verbal, math, science and technical, and spatial. The nine sections include: paragraph comprehension, word knowledge, general science, mechanical comprehension, auto and shop information, arithmetic reasoning, mathematics knowledge, electronics information, and assembling objects.
The ASVAB is scored on a 0 – 99 point scale. Your score is broken down into subtest scores to determine your qualification areas. Each branch of the military has minimum scores in each of these qualification areas that must be met in order for the test-taker to be eligible to enlist in the Air Force, Army, Marine Corps, or Navy branch. These are known as AFQT scores.
Students enlisting in the United States Armed Forces. While high school students are the most common test-takers, anyone eligible for enlistment may take the exam.
Should I prep for the ASVAB? How much?
The test is 3 hours long. With anything of that magnitude, a little practice is in order. You'll want a qualifying score to be eligible for enlistment, and a higher score helps you get the job and bonuses you want. While everyone is different, Peterson's recommends at least 6 weeks of preparation for test day.
How do I register for the ASVAB?
ASVAB registration takes place through a military recruiter. Find and contact a recruiter through the Department of Defense's Today's Military website. If you are deemed qualified, the recruiter will set up a time for you to take the ASVAB at the nearest Military Entrance Processing Station or Military Entrance Test site.
Did we mention that we have an app coming soon?
That's right! Ace your next exam with test prep mobile. With our new mobile app, you get access to our top 20 courses instantly, with more being added constantly. Collect badges, win trophies, and create a schedule that works for you. Subscribe now and start studying at home, at work, and on the go.



With digital and print prep guides for over 185 exams and tests, there's nowhere you can't go with Peterson's by your side.