During the last 10 years, the United States has naturalized more than 7.3 million citizens who now call it home, according to US Citizenship and Immmigration Services (USCIS). Becoming a US citizen is a long and often costly process that requires a lot of patience, forms and supporting documentation, and attention to detail.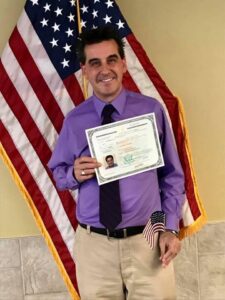 I know firsthand—my husband, Paul, originally from the UK, became a US citizen five years ago. Our immigration journey began in the fall of 2010 through a K-1 fiancé visa. After nearly two and a half years, he was finally approved to move to the US as a green card holder. It would be nearly nine months before he was able to work in the US. In early 2017, he applied for US citizenship. On May 3, 2017, he faced the citizenship interview and was sworn in as a US citizen later that day.
The naturalization ceremony was an incredibly humbling and emotional experience—the culmination of seven years of enduring the immigration process finally came to an end.
The path all aspiring US citizens take ultimately comes down to the naturalization interview/test. We've outlined the information you need to prepare for the US naturalization test. 
What's on the US Citizenship Test?
During the naturalization eligibility interview, an applicant will be given an English proficiency test, which measures their ability to read, write, speak and understand English. The applicant will also be asked 10 civics questions from a list of 100 questions to assess your knowledge and understanding of US history and how its government works. You must answer six questions correctly in order to pass this portion of the naturalization test.
If you fail to answer six questions correctly, you will not pass the citizenship test. You can retake the naturalization test at a later date, which will be scheduled by the USCIS approximately two to three months after your initial interview/test appointment. The questions for your retake will be different from the ones you were asked in your original appointment. 
Preparing for the US Citizenship Test
With the future of citizenship reliant on the interview process, preparing for the naturalization interview and test is a critical step to becoming a US citizen. We highly recommend that you review all questions, out of which ten will be included on the naturalization test.

Peterson's "Becoming a US Citizen" test prep includes five online practice tests, lessons covering reading and writing English and the civics portion of the test, and flashcards covering all 100 of the official USCIS interview questions. 
Naturalization By the Numbers
Here are some interesting fiscal year 2020 naturalization statistics from the USCIS:
There were 625,400 new citizens welcomed in 2020, even with pandemic-related closures. 

You must be a lawful permanent resident for five years prior to becoming eligible to apply for US citizenship.

The average number of years spent as a lawful permanent resident for citizens naturalized in 2020 is 7.1 years.

Fifty-five percent of those naturalized were women. 

The median age of those naturalized was 41 years old. 

The most popular countries of origin for those naturalized citizens in 2020 were:
Mexico (13.3%)

India (7.7%)

Philippines (5.3%)

Cuba (5%)

China (3.7%)
The most popular states where naturalized citizens resided include:
California (18.6%)

Florida (12.8%)

Texas (11.1%)

New York (9.25)

New Jersey (3.6%)

Maryland (3.6%)

Illinois (3.3%)

Massachusetts (3.2%) 

Georgia (3%)

Virginia (2.9%)
RELATED: Serve Your Country Abroad as a Foreign Service Officer

Peterson's test prep helps you prepare for the important step toward becoming a US citizen. Our test prep gives you access to all the official interview questions and information you need to reach your naturalization milestone. Get started today!